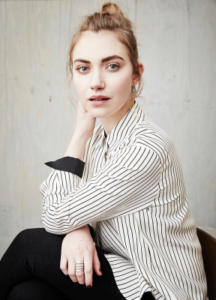 Part neo-noir, part latter-day Western, this exceptional indie thriller delivers well-acted character insights amid its shadowy, small-town Alaskan setting.
Right out of the gate, the China brothers' noir-hearted sensibility was being compared to that of fellow film siblings Joel and Ethan Coen, as critics hailed the Australian writer-director duo's debut "Crawl" as a modern-day "Blood Simple." On the surface, their 2012 Black List-selected screenplay for "Sweet Virginia" dives further down that rabbit hole, featuring as it does a wife who hires a guy to bump off her own husband (a gender-flipped twist on the basic "Fargo" plot) and a hit man who's as cold-blooded as "No Country for Old Men" killer Anton Chigurh.
And yet, going deep is what makes "Sweet Virginia" great — heck, more than great. As translated to screen by director Jamie M. Dagg (whose sure hand and smart changes elevate things considerably), Benjamin and Paul China's script yields one of the gnarliest and most unsettling movies we're likely to get this year. Set in a remote corner of Alaska, this small-town, blue-collar thriller is surprisingly cast, exceptionally well acted (male leads Jon Bernthal and Christopher Abbott might have easily switched roles, though it's far more effective in this arrangement), and executed potently enough to leave a lasting impression, like scar tissue after a serious burn.