'We need more female anti-heroes'
December 20, 2017 | Written by Alex Wood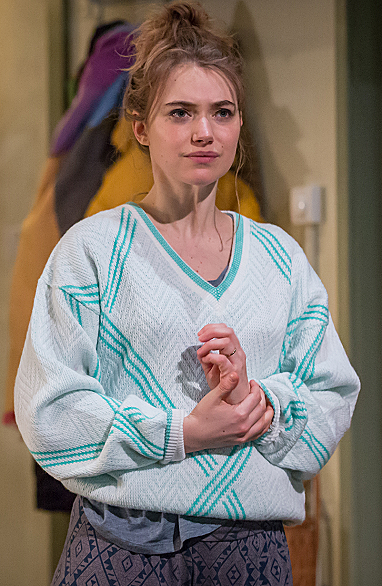 Imogen Poots was recently nominated for a WhatsOnStage Award for her performance in Who's Afraid of Virginia Woolf? alongside Conleth Hill and Imelda Staunton. She returned to the London stage this month in the UK premiere of US playwright Amy Herzog's Belleville at the Donmar Warehouse, alongside James Norton, Malachi Kirby and Faith Alabi.
Set in a Bohemian Parisian apartment, the play, directed by Michael Longhurst, explores a fractious relationship between Abby (Poots) and Zack (Norton) as they settle into the French capital. In his review of the piece, critic Matt Trueman described the show as "a millennial mental health horror".
What would you say the play's about?
It is all to do with the millennial conundrum of happiness, I guess, and whether or not you're using your life in the right way, doing the right thing or being with the right person. And the underlying sense of self-loathing, over-analysis and the catastrophising that comes with that. Belleville is a time capsule of a play, one that definitely speaks to my generation, which is made up of people who really question their emotional and mental state.

Why were you drawn to the role of Abby?
I think I didn't really understand how to play Abby, and I wanted to work out whether or not I could empathise with her. The play certainly doesn't make it obvious how to go about that. I was quite fearful of portraying Abby, because I'd loved the text for so long. This play, alongside the work of writers like Annie Baker, are all about things that don't go the way you want them to, which I think is such a beautiful and tragic subject matter. I'm always intrigued by people who are unlikable and I think we need more female anti-heroes. You don't want to play someone who's just alright, the best people are always more complex.

Have you and James done a lot to cultivate your relationship in the show?
It was certainly one of those rehearsal rooms where we all had to do some oversharing, but we had a nice safe space. Everyone had a moment where they remembered a strange relationship they used to have, or the skeletons in their closet. We had experts on anxiety and co-dependency who came in to talk to us about that and it was a bit eye-opening – after the sessions we were all like 'we need to see these experts again'. The co-dependency session was an interesting one because the expert stated that people rarely know when they're in that kind of relationship, and it shocked us.

Imogen Poots and James Norton in Belleville
© Marc Brenner

What was it like working closely with Amy on the show?
It was interesting for me because on Virginia Woolf Edward Albee had passed away by the time our production was on, so it meant having to go through a load of books to find the kernel of an idea in the show. This time we had a writer literally in the room, so we could lean over the table and ask "what the hell is this bit about?"

Did you enjoy doing a four-hander again?
Another quartet! Belleville was actually a favourite of mine for a long time, so when it came about it was a very wonderful thing. It's so unique; a combination of genres and ideas and, given the unpredictable nature of the play, you're never really sure what you're watching. I think the best material creates that sensation for an audience, where they aren't sure whether they should be laughing or not. It unnerves them and Amy's work does that so brilliantly.

How does performing on stage compare to your screen work?
It's always a strange balance of feeling both uncomfortable and confident that you are portraying a character with a story worth telling. I love doing theatre and I've been spoilt with both James McDonald and now Michael Longhurst as directors, but most of all it's an extraordinary thing as an actor to just have time. As a TV or film actor you quite often just have to throw it out there, and hopefully something interesting comes out, whereas on stage you get time to chisel away at a character and explore something that isn't indelible and can be transformed.
Belleville runs at the Donmar Warehouse until 3 February 2018.