I can't do Twitter. My thumbs are too big
March 15, 2014 | Written by Kevin Maher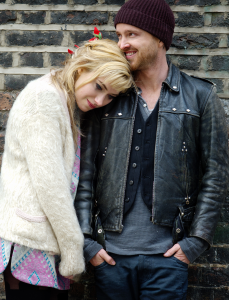 "Out of my way, f***ers!" This is how she enters, Imogen Poots. Charging full pelt across an East London rooftop, heading straight for the edge with screaming suicidal abandon. It is only five minutes into Poots's new movie, a Nick Hornby adaptation called A Long Way Down, and the 24-year-old actress and precocious scene-stealer (see her in Jane Eyre or Solitary Man) has already nabbed the spot for the most arresting screen entrance of the decade for a young British actress on the cusp of super-stardom. "You read an opening line like that in a script," she will later say. "It's wham, bam, thank you mam. You're either all in or all out."
Poots fans, naturally, will be pleased to learn that her death plunge is intercepted by three equally suicidal would-be jumpers, played by Pierce Brosnan, Toni Collette and Breaking Bad's Aaron Paul. And though the film moves on through the highs and lows of these four newly-formed friendships, it's hard not to see that opening scene, and that show-stopping entrance, as a mission statement from Poots. For, with no other actresses around who can touch her for sheer output alone, she is currently a mere four movies into a gobsmackingly dense eight-movie Poots-gasm that began, less than a year ago, with the Soho-based biopic The Look of Love, has pinged through the scabrously bleak comedy Filth, the Hollywood action blockbuster Need for Speed and the Zac Efron vehicle That Awkward Moment, and has yet to deliver the latest Terence Malick drama Knight of Cups or her biggest role yet, as a prostitute turned Broadway actress for the Hollywood legend Peter Bogdanovich in Squirrels to the Nuts.
Nor does she appear, in the flesh, to be burdened at all by Hollywood affectations (raised in Chiswick, West London, she has been living in Los Angeles for the past 18 months), or any preening actorly vanities. On the contrary, self-deprecation abounds, as does kooky eccentricity (she is wearing, with heels, a black flasher's mac, oddly buttoned up to the neck. I would ask her to remove it but, for a man of my age, there is simply no non-deeply creepy way to go there). She points to her face, which appears lightly dusted in make-up, and sighs: "It took two hours this morning for someone to figure this out. I'm not very good at the whole beauty thing." She is physically mercurial and certainly not a "type", flip-flopping instead between Kate Winslet and Shelley Duvall, with long limbs, piercing blue eyes and a wide, beaming smile that, whenever she pleases, can double up as a goofy grin.
She has fought many battles with the Hollywood machine, even at this nascent stage in her career, over the exact nature of her emerging beauty. Filming the Colin Farrell vampire movie Fright Night she was reduced to tears when the props department was ordered to fit her with an extra-large bust-enhancing bra. She cried to the director, Craig Gillespie, "I just feel like a cartoon." He replied, "OK. We'll take them a size down."
Today she muses, with barely veiled sarcasm, "To be honest, that was all right, because I did turn into a vampire. And when you turn into a vampire, obviously, your breasts expand."
Neither was her current studio blockbuster Need for Speed without challenges. This time it was decided that her long, blonde hair was not lush and womanly enough. "They attached various bits of exotic hair to my head," she says, reflecting on her role as swanky British car dealer Julia Maddon opposite the Mustang-loving bad boy Aaron Paul (again!) in a film about car racing and male bonding that plays like eye-gouging porno for petrol-heads. "You wouldn't believe the battles you have to fight to wear just t-shirt and jeans in a studio film. I think the pressure you can feel to conform to this archetype of 'the woman' in a film is actually a bit dated now. And, unfortunately, you have to be very vocal about it. People will say: 'No, no, no!' And I have to say: 'No, no, no!' And that is how it will continue."
Thankfully, there are no super-boobs or synthetic bouffants in A Long Way Down, a film in which Poots plays a grieving sister and politician's daughter whose unlikely friendship with Brosnan's self-loathing DJ and Collette's downtrodden single mum, not to mention her unlikely romance with Paul's former grunge rocker, saves the group, essentially, from mass suicide. Naturally, it's a delicate tonal line that the film tries to maintain – laughing at suicide without laughing at suicide. And certainly a feel-good second act excursion to the Mediterranean seems to have come from another movie entirely (Brosnan's own Mamma Mia! perhaps?). Poots is adamant, however, that it's not the movie's job to address the morality of suicide. "If you look at the film from a literary perspective, suicide is a device for these characters to meet up, and to show that these people of different professions, genders and ages are still experiencing pain. I don't think in any way it's making a statement about suicide."
Meanwhile, of her double collaboration with Paul, she says, droll as ever: "He just put me into a suitcase and took me to the race cars." Really? "No. We finished Long Way Down, and he was going on to do Need for Speed, and said: 'Would you like to do it?' I was very confused. But yes. We did this film together. About race cars. And there's a race across America. And we're in a Mustang."
In case you hadn't guessed yet, Poots's default conversational style is the deadest kooky deadpan with a twinkling hint of irony. I ask her if she ever feels eccentric. She groans. "Isn't eccentricity now perceived as just being very irritating?" Well, then, does she ever feel at odds with the world around her? "Oh every day! Every day! It would be hard not to!" She says that her favourite roles so far have spoken to a deeply personal part of her. I tell her that her best roles so far are often fragile and deeply damaged souls (think Paul Raymond's heroin-addicted daughter Debbie in The Look of Love, or Eva, the brittle beauty in Chatroom). She says that this is not significant at all, and that her Chiswick childhood with a TV producer dad and a journalist mum was very happy indeed, thank you very much.
She started acting at 14, she says, because she always has. "This obviously implies something potentially insane about me," she explains. "But I suddenly got to a point where I realised that I'd been acting for a very long time. So I joined a theatre group." The roles came slowly. An episode of Casualty. A walk-on in V for Vendetta. Until finally, aged 20, came her big break — playing a nubile American man-eater who seduces Michael Douglas, hard and heavy, up against the wall, in Solitary Man. In the scene, Douglas, who was 65 at the time, is playing midlife crisis mode, flattered by Poots's desires. During much subsequent face-sucking and panting, Douglas demands that she "Show me! Show me!" her sensual turn-ons while he eagerly paws away at her tiny frame. So did she have any, well, trepidation about effectively launching her career opposite the Usain Bolt of movie sex? "To be honest, no matter how experienced you are, you're still nervous before a scene like that," she says. "And he was quite open about it. For him, he was probably thinking: 'God, I'm Michael Douglas, I'm the movie star, I'm supposed to be the one who's completely smooth with this whole situation.' Whereas I was just hanging around in the background, attaching nipple stickers to my eyeballs!"
The roles soon came thick and fast, with career highlights including A Late Quartet opposite Philip Seymour Hoffman (his death, she says, was "absolutely devastating") and a trio of upcoming roles — as the groupie Linda Keith opposite André Benjamin's Jimi Hendrix in the biopic All is By My Side, as one of the many as yet unnamed characters opposite Christian Bale and Cate Blanchett in Terrence Malick's Knight of Cups (Malick was "loquacious, open, charming . . . just a hero of mine"), and, of course, as Izzy, the hooker with the heart and the dramatic chops in Bogdanovich's Squirrel to the Nuts ("Just perfect!").
Off screen, she claims to be adjusting well to LA life. She lives in an apartment with a kettle that whistles, a balcon, and a rocking chair in which she sits, making cocktails at 4am. Her social life consists mainly of "barbecues and cider". Does she have a partner? She melts. "Awwwhhhh. A partner! That's such a lovely way of saying it. Because you never know which way anyone is going these days, right? Or, if they're into, like, sheep? But you know what? I'd rather not talk about it. Because [does snooty voice] I'm English! And we don't talk about that."
Does she use Twitter? "I can't. My thumbs are too big, and my computer doesn't turn on." Really? "No, but someone recently asked me if I had tried listening to a podcast. I didn't even know what that was." Does she listen to music? "Music is extremely important to me. I probably spend more time with Leonard Cohen in my ears than I do hanging out with any other human being." Is she happy? She winces. Well, put it this way, if she woke up in the small hours and stared at herself in the mirror, what would she be feeling? "I'd be very concerned," she says, deadpan. "Because if you look in the mirror after midnight you see ghosts. So I've never done that. Honestly. That can happen."
She might be joking. She might not, but if you'd done eight movies in as many months I suspect you'd be seeing spirits in the mirror too.