Mad about the boys
February 7, 2014 | Written by Philippa Hawker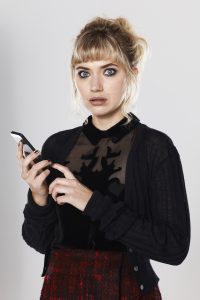 Shooting in New York, says Imogen Poots, is a contradictory pleasure. There are pluses and minuses "to filming in a bar that you normally go to anyway," she says, "and they shut the whole thing down for two days and by the end of it you're sick of it because everyone smells of sweat and none of the alcohol is real".
As a location, New York plays an important part in Are We Officially Dating?, a romantic comedy about a trio of male best friends in a state of confusion and transition. Its impact is not surprising, Poots says, because in movies and in life, "a city has a huge impact on the kind of person you are, your attitude towards relationships. It can be quite overwhelming, socially and culturally."
In Are We Officially Dating? (also known as That Awkward Moment) Zac Efron, Miles Teller (The Spectacular Now) and Michael B. Jordan (Friday Night Lights, Fruitvale Station) play three best friends who make a pact to remain single and then immediately discover that it's a lot more challenging to avoid commitment than they had realised.
Poots, 24, plays Ellie, a resourceful and self-aware young woman whom Efron's character, Jason, meets in a bar, but can't admit to being attracted to because it wasn't part of his plan.
Romantic comedy is not a big feature of Poots' CV. She was born and raised in London, and has worked in Britain and the US. In her early teens, she joined a youth theatre group, played a pregnant teenager in the TV series Casualty and had a tiny role in V for Vendetta; when she finished school, she set aside the chance to study art history and embarked on a fully fledged acting career.
She has since played the heroine's romantic rival, Blanche Ingram, in Jane Eyre, was Steve Coogan's messed-up daughter in The Look of Love and a level-headed police officer in an adaptation of Irvine Welsh's Filth.
She had an encounter with a musician on the cusp of fame in Greetings from Tim Buckley and she was a gifted classical violinist in Performance (A Late Quartet) – both films, as it happens, in which New York was an unmistakable element.
She decided to take the role of Ellie after meeting the writer-director, Tom Gormican. "I understood the concept, I read the script, and thought, 'Oh this is interesting', and I wanted to know what was behind it."
When they met, he told her that one of his favourite romantic comedies was Eternal Sunshine Of The Spotless Mind, "and I loved it that he even viewed it in that category. I was excited by his views on film and how honest he was about his own experiences. I loved the role, it felt very current, and I wanted to be part of something with these boys, with the ensemble. They're all terrific actors and they bring something unique to each role."
As for Ellie: "I was excited by her ability to laugh things off, and to do it sincerely, too. I don't want to use the word 'strong' because that implies that she's not fragile at all. But she doesn't really care about a lot of trivial things."
Poots has a host of films coming out this year, among them a biopic about Jimi Hendrix, All is by My Side, the action movie Need for Speed, and an adaptation of Nick Hornby's novel A Long Way Down.
She also has a role in Terrence Malick's Knight of Cups – a movie that is, like all the director's films, shrouded in secrecy. "Part of the mystique of Malick's filmmaking is that we all silently agree not to discuss the actual characters and stuff, but in terms of the filmmaking process it was something I've never really experienced before, and that's what made it so interesting," she says.
Even though Poots' films all seem so different from one another, there's a sense of continuity in her creative life, she says. "There are some projects that you finish, and it's job done, that's it. But with some others, you really don't; maybe you form relationships with your co-stars or crew or filmmakers, but also, in a way … they can blend into one another."