Working with legendary filmmaker Peter Bogdanovich
April 30, 2015 | Written by Stephen Applebaum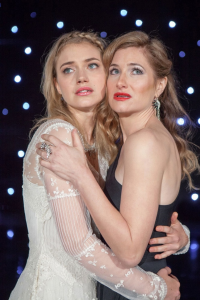 Imogen Poots has come a long way since appearing smeared with Vaseline in an episode of the British TV medical drama Casualty. At 25, she is one of the UK's most in-demand actresses, with a filmography that includes collaborations with acclaimed directors such as Richard Linklater, Cary Fukunaga, Michael Winterbottom, and Terrence Malick.
Her latest film, She's Funny That Way, adds the legendary Peter Bogdanovich, director of such films as The Last Picture Show and Paper Moon, to the list. For his first feature since 2001's The Cat's Meow, he cast the Briton as a prostitute-turned-Broadway actress. She is part of a glittering ensemble cast that includes Owen Wilson and Jennifer Aniston.
For Poots, who loves the 70s era of American cinema, working with Bogdanovich was a dream come true.
It was "the pinnacle of everything for me," she says. "It was one of the most extraordinary jobs I've ever had the chance to work on."
Unlike last year's vehicular action-fest Need for Speed, in which she co-starred with Breaking Bad's Aaron Paul, the modern-day screwball comedy was a return to old-school filmmaking.
"Bogdanovich knows exactly what he wants and doesn't do much coverage," says Poots, referring to the filmmaking term for the amount of footage shot and the number of different camera angles used. "Whereas, I think, everyone now needs so much coverage, especially if they're using digital cameras."
Working with Malick – who also rose to prominence in the 70s, as the director of Badlands – on the upcoming Hollywood tale Knight of Cups couldn't have been more different. He works so intuitively that actors often don't know what the story is, or whether they will even make the final cut.
"It's funny, because people say stuff like, 'Tell me what the story is about again?' and I say, 'I wish I knew.'" says Poots. "You are literally given your stuff for one day, and sometimes you don't even get that, and you turn up and go to a palm tree and something magical's going to happen."
She didn't worry too much about ending up on the cutting room floor while making the film, about a screenwriter in Los Angeles trying to make sense of the strange events happening around him. It also stars Christian Bale, Cate Blanchett, Natalie Portman and Antonio Banderas.
"You say, 'I'm going to be with Terrence Malick and Christian Bale, and that's enough.' You just turn up, scare yourself, and have a good time."
Poots had a different kind of challenge recently, when she played Linda Keith, who helped bring Jimi Hendrix to perform London, in the impressionistic biopic, Jimi: All Is By My Side.
"Linda is still around," says Poots, "but because of the intimacy of the relationship she had with Jimi Hendrix, and because in real life she is somebody who does not want any spotlight, she didn't want to be part of the process.
"She's still very aware, though, of some imbecile attempting to play her in a film."
Poots has another music-related film, The Green Room, in the can, and Cameron Crowe has also enlisted her for his made-for-TV rock comedy, Roadies.
However, although we'll be seeing a lot of her on screen, somewhere you're unlikely to find Poots is hanging out on social media.
"I just find it very strange," she says. "Actor friends of mine put links up to their movies. Can you imagine Marlon Brando being like, 'Yo, I've a great new film coming out.' It's just so strange."