Imogen Poots talks A Long Way Down, Terrence Malick and payday projects
March 18, 2014 | Written by Emma Dibdin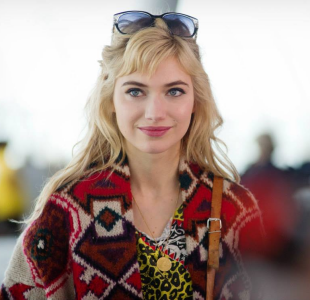 British rising star Imogen Poots is having a bumper year. Nick Hornby adaptation A Long Way Down is her third feature so far this year – following Zac Efron comedy That Awkward Moment and high-octane actioner Need for Speed – and her equally packed upcoming slate includes Terrence Malick's Knight of Cups.
Digital Spy caught up with Poots to discuss her role in A Long Way Down, Malick's enigmatic reputation, and the pleasures of working with Aaron Paul twice in a row.
A Long Way Down blends dark subject matter with a comedic tone in a way that feels fairly unusual – what appealed to you about the script?
Nick Hornby constructs such rich characters on the page, and I was really interested in how Jack Thorne translated that into the screenplay. It's interesting because the film certainly has a comedic nature to it but I never considered it a straightforward comedy. We all considered the suicide element as very much a catalyst, and anything that you would be cautious about or have trepidation about in terms of the project was actually kind of a draw. I thought Jess was such a cool character, too, you're sort of all in with someone like her, and there's a lot of complexity beneath the surface.
And this was your second time working with Aaron Paul…
Well, we did this one first of all, and then we actually went to do Need for Speed together afterwards. Because we were doing this, and then Aaron sort of said, 'How about it?', and I was like, 'Yeah, that sounds… interesting!' They were totally, totally different experiences. I had such a wonderful time on A Long Way Down, and it's funny watching it back, to essentially be too close to something.
Aaron really is just a thoroughly kind, wonderful human being, and it's funny because he plays such dark souls. There's a lot of love there, and I don't mean that in a cheesy American way, I mean he's really kind of loved up by the world.
Your character Jess's backstory is more expansive in the book than the film script – did you draw on that?
You're right, it was much more explored and present in the book. The style of the film is extremely rapid-fire, in terms of everything from the dialogue to the plot, so it was used really just to set the temperature of Jess's character, and why she behaves the way she does.
I think the concept of abandonment issues, which can come from losing anybody in your life, that was really tied in with understanding her. Whereas in the book, it's a diary form so she can kind of meditate on the disappearance of her sister. They crammed a lot into the film, but they really do exist separately.
The group dynamic with you, Aaron, Pierce Brosnan and Toni Collette feels very natural and loose – did you improvise much?
It was pretty much on the page, but in terms of the ease with each other, I think that really stemmed from the fact that we had a rehearsal period. The dynamic on-screen was very much informed and mirrored by us just hanging out, because all your downtime is inevitably spent in one another's company when you're in so many scenes together. So it's good that you got that impression.
You recently worked with Terrence Malick on Knight of Cups. He's a famously reclusive and enigmatic director – what was that experience like?
It was interesting because his first films, like Badlands and Days of Heaven, are such linear narratives .You don't know whether the project that you're entering is going to be in the vein of those original films, or more along the lines of a Tree of Life. It was an incredible experience, he is very much an auteur, an artist, and it's very cool that he has actually maintained that enigmatic quality, especially with regard to technology. I think people respect him so much that we all sort of silently agree to help him maintain that.
Actors often seem unsure after finishing a Malick project whether they'll end up in the finished product…
This is true! You never know, and that's kind of the idea, I think. You turn up to a film set like that prepared not to have the normal experience. There's something present – and I mean this in a very sincere way – about his kind of filmmaking, because it really exists there and then, and it may never be seen again. What you do may never see the light of day.
You're incredibly busy at the moment – you've already had three films out this year. Has your life noticeably changed?
It's funny how that can happen, how you do something and it can come out six months later, or a couple of years from then, and all these projects kind of align. The main thing that has changed is that you get to a place where you know what you like, and you know the sort of work that you want to do, and the sort of work you don't want to do. So it becomes less about just getting a job, any job, and more about working out the type of actor you want to be.
It's a lovely place to be in, when you can be a bit more selective about your projects, and I think that's something very sacred too because it's not the case a lot of the time. Obviously, there are some projects that are payday, but the ones that your heart is completely in are often the ones that take a while to come together.