Imogen wants to skate but first she must learn to drive
June 24, 2016 | Written by Gerri Miller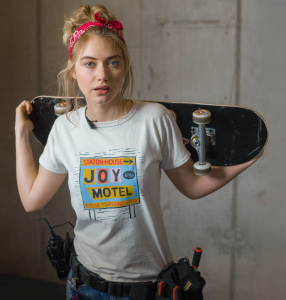 Imogen Poots made her screen debut in V for Vendetta 11 years ago and the British thespian has worked steadily ever since in movies like 28 Weeks Later, That Awkward Moment, Knight of Cups and Popstar: Never Stop Never Stopping.
She also has two films coming up, Green Room (in which she plays a Nazi skinhead) and Frank & Lola (a romantic flick with Michael Shannon). But right now the London native is tackling her first big U.S. TV role (and an American accent) in Showtime's Roadies, premiering Sunday at 10/9c.
Created by Almost Famous writer-director Cameron Crowe, the series focuses on the unsung heroes that work behind the scenes on an arena rock tour. Poots plays an electrical rigger named Kelly Ann, who contemplates leaving the roadie life for film school as the story begins. Here, she talks about the role, road life and why she looks so professional on a skateboard.
What drew you to playing Kelly Ann?
She is obviously deeply troubled by trying to figure out her own philosophy and that resonated greatly with me as an actor. There's something quite poignant about the nobility of people who haven't really done what they've wanted to do in life and maybe got stuck and stayed there. She wants to get outside of the world of music. She'd never say that to her roadie crew because she loves them but she wants to see what else is out there.
Are you alike at all?
In some respects, sure, in terms of her age and the fact that she's at this point in her life and the industry she's working in, but we're pretty different. She offers a different perspective for sure and I enjoyed getting to know her. She's the observer. She's watching everything. But she's not too involved in the drama of it all. When she makes the decision to leave you wonder how much of that is her own idea, or whether it's something she's supposed to do, to go and get an education. It's hard to know what you want to do, if you're doing the right thing. She asks a lot of important questions.
How was it to do the electrical rigging scenes? How physical was it?
Physical in the sense of understanding the physics—in terms of my job, getting over the fact that those rafters are pretty high up in those music venues. You realize they do put their lives on the line and do that when they're exhausted. There are long days, long drives.
It's a tough gig.
They do not have a break. It's relentless, what these crewmembers do. I'm in awe of what they do. I've certainly romanticized the notion of being on a tour bus, but once you realize how hard it is, you have to be in it for the long run, You've got to really love it, same as a lot of things in life. It's something that I'd love to try, but I think I'll stick with acting.
Are there a lot of women electrical riggers?
Absolutely. She's based on a real girl that Cameron saw. It's very gender-fair. There are a lot of women and families on tour. I'm sure a lot of them got into it because their moms and dads did it. A lot of crew people have their children on tour buses. It's a lot of heavy lifting but they work together. There's a hierarchy and different responsibilities for each job but one couldn't exist without the others.
Hear any funny stories about the goings-on on tour?
Yes. The roadies will cover up all the seats that didn't sell with black curtains so the singer won't feel insecure. I love that.
Kelly Ann gets around on a skateboard. Did you know how to ride before?
I have a really good double. She's an Olympic skateboarder from Australia and we look exactly the same. But I learned a couple of things here and there. I want to get it down. First I should learn to drive. I live in New York so…