Discovering What Really Goes on at a Rock Show
June 23, 2016 | Written by Eric Goldman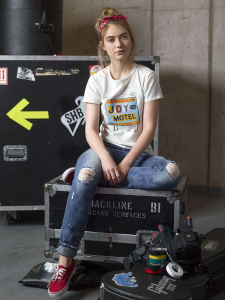 Officially debuting this Sunday — though you can watch it now on Showtime's website — the new Showtime series Roadies takes a look at life on the road for a rock tour – but instead of centering on the band, their fame and all the other usual trappings, the focus here is on the crew and what it's like making sure everything goes right, night after night, city after city.
Among an ensemble that includes Luke Wilson (Old School), Carla Gugino (Sin City) and Keisha Castle-Hughes (Game of Thrones), Imogen Poots (Green Room) stars as Kelly Ann, one of the youngest members of the crew – who we meet when she is in the midst of a lot of doubt about whether this is still the life for her.
I spoke to Poots about her role on the series and working with Cameron Crowe (Almost Famous), who created the series and executive produces alongside Winnie Holzman (My So-Called Life) and J.J. Abrams. We also chatted about her getting her start in 28 Weeks Later, alongside actors like Robert Carlyle, Jeremy Renner, Idris Elba and Rose Byrne and her other current role in The Lonely Island movie, Popstar, where she plays Andy Samberg's girlfriend.
IGN: I feel Cameron Crowe is one of those people that as an actor you probably automatically go, "I want to work with him."
Poots: I was really excited by the fact that it was Cameron and [about] music, because he's the master of understanding human story within a very kinetic, confusing, ever-changing world of the music industry. I knew the story was going to come from a place that was based on experiences and stories he's heard, because Cameron hears everything. He listens and he documents it. That's what I was so exhilarated by was certainly hearing that and the role itself.
IGN; You play a young woman who has been around this world for awhile, it feels. Did you talk to Cameron about exactly how this all started for her?
Poots: It's interesting, because a lot of the roadies we spoke to, they had been introduced to it via their families, via their moms and dads working in it and they grew up in tour busses. Kelly Ann has a certain enigmatic quality to her background that happens in episode one. But certainly, I think it's a pure love of music. I think when you're that age, you're very in love with your surroundings of an artistic environment and you're very jazzed at everything and anything you can call your own and identify with. I think she's very passionate and sure about music, in the same way that as an actor I noticed a lot of the guys that were working at 19 or 20 on film crews, it was often because their dad was a prop master so they were going to do props on set. That's certainly something that happens a lot.
IGN: Watching it, it's easy to realize, "Yeah, I don't know a lot about this world." You go to a concert and see a band and you don't think about everything that went into that backstage. Has it been a big learning experience for you, with all the intricacies here?
Poots: Absolutely. Intricacies regarding the crew and also regarding the audience. That's something you often don't consider but it's creating an experience for the band to perform at their best and the idea of what does the audience want from that and we'd hear stories about certain crews for certain bands blacking out lots of seats that hadn't sold or something so the singer wouldn't feel insecure about it. That's it. It's really understanding that it's an audience who have to identify with that music and the audience has the ability to transform the music industry. So the roadies have to — it starts from point A to point B to point C. I thought that was quite cool.
IGN; I don't think many of us can say we match Cameron Crowe as a music aficionado. Most people are music fans on some level, but going into this were you a "music person"?
Poots: Yes. Beyond. I always listened to music growing up. My parents gave me books. Music was something I found myself. I started with the Cranberries, Susan Vega, and Simon and Garfunkel. I remember listening to them for a while. Then I found a mix tape my brothers friend had made him that had Mazzy Star and the Sundays on it and Elliot Smith. The first album that blew my mind was The Queen is Dead by the Smiths. That's when I was about 17. I didn't go out the entire weekend. I just put it on. I shut the door and was like "Whoa, this is amazing." Travelling a lot, you rely on music heavily to maintain a healthy psyche.
IGN: We meet her and she's in this disillusioned place with her life and the job. I don't think it's a huge spoiler to say you don't leave the job at the end of the pilot, because you're a series regular. But she has these aspirations as far as film school and doing something else. Do you think there's an ongoing split in her?
Poots: I think there's 100% a split. There's fragments all over the place. I think that's why I found her so interesting, the state of confusion we find her in and how conflicted she actually is because her values are based on myth, a lot of them – the myth of the old way. Like myself as the actor, I'm like "Well, cinema in the 70s was this way" and "in the 20s it was this way." You've got to own up to the fact that you're here and now and this is your own era and are you going to turn your back on it or pay attention and listen and help progress in this time. So when there's this outburst with Rafe [Spall]'s character — who materializes as everything this new way appears to be — she has this very convoluted argument. She's trying to figure out what she wants to say but you wonder if the film school idea is even her own dream or is that something someone said to her like, "You know what, you should go study. You should have a plan B." Everyone loves the idea of this plan B but what if you're already doing what you love? That's rare. That's extremely rare for people now to figure that out. It's very hard. I think all of those factors, I loved. You watch her make mistakes. She's a flawed, floundering human being. Then also her relationship with Phil and the idea of having an idol who, shock horror, apparently has a sell by date and is human and that's alarming to recognize.
IGN; That's a great scene you have in the first episode – the big outburst scene. Was that exciting for you?
Poots: It was really fun because I don't think she ever said any of those things to the people around her and I understand why because what she's also saying is "You've all let me down." She's asking important questions which all of us have to do at some point in our life whether we vocalize them or not. But there's a possibility of just deep, deep humiliation at the end of that. There's no round of applause at the end. There's no Hollywood acceptance to what she just said. She's putting something out there and doesn't really know what she wants in return. It's this misdirected attack. It was very excited to do because she's just a raw nerve at this point.
IGN: Kelly Ann is a huge music fan but also has filmmaking aspirations. It's hard to not see her as an avatar for Cameron Crowe, who has been so involved in both those worlds. Is that cool for you, given he obviously gets autobiographical with his material?
Poots: Absolutely and if you look at Almost Famous it's easy to see that that boy is Cameron. Once you've gotten to know him, there's something about him that's so authentic and sincere and he's willing to stand up and say "I am a fan." The word fan now is such a confused term but in that sense of, "I love what you do and I'm so curious" and that curiosity is insatiable. And he's still like that. He and I will be talking and I'll mumble something under my breath and he's like "Whoa, what do you mean? Let's talk about that." And he means it. He still means it. After all these years of working in this industry he's still this extremely wondrous, questioning human being.
IGN: There's a physical part to this job that you're portraying on this show. You see these guys, yourself included, go up in the rafters and on the rigs. Your character also has the skateboarding aspect, so has the physicality been an interesting part of the role?
Poots: Absolutely and to understand how to do that and do it right so you're not just fooling around with some props. I was surprised how high up into the rafters they go. I mean, they really do go up there and I went up there when we shot it and it's certainly like "Whoa!", you're really up there. It's not surprising that they have to be super careful. There will be times where they're working and are absolutely exhausted — you see it on film crews too. You see guys picking up boxes and boxes of cables and nearly putting their backs out and they've just done a 60 hour day or something.
IGN; How about the skateboarding? Has that been a crash course for you? No pun intended.
Poots: No, there was so much crashing! The girl, Shari who is my stunt double, she is an Olympic, Australian Skateboarder. She made me look really good. It's something I plan on artfully understanding how to do. I've got the basics. I have to hone my craft. I've got the step off right. I thought I'd be really good at it because I'm good at balancing on the subway without holding on. But it turns out it's very different.
IGN: I have to tell you, I'm a big fan of 28 weeks Later. And looking back, that cast is so impressive.
Poots: It is interesting when I think about that. I remember at the time being so in awe of Robert Carlyle. I remember Rose Burn, when I was 17, I remember speaking to her and being like ,"Wow, she is one of the funniest people I have ever met in my life." And she did comedy then but it is interesting to me when people realized in a big way… I was like, finally, Rose is doing these comedies because she's so funny! She really is something else.
IGN: You're in Popstar with The Lonely Island guys. What's it like working with them?
Poots: I had a genius time. They're the terrific trio. They're so cool. They care so much about women. It's such a funny set. I was spoiled. Sarah Silverman was there. That was a hoot, essentially parodying the life of a pop star. Andy's the pop star and I play his obnoxious, diluted girlfriend who is in it completely of her own advantages and benefits and is someone who you certainly would take with a huge bucket of salt, I think.
IGN: Is it funny to have these two very different takes on the music industry coming out simultaneously?
Poots: Yeah. But I mean it's funny. I realized I did a film on Jimi Hendrix and one on Jeff Buckley and then this — you start to realize you're doing a lot with music and to be honest it's because it's such an interesting thing to talk about. I've done things where the subject matter didn't need to be talked about, something you don't give a s**t about and you have to do it. It's a joy to talk about music.