Girl on the Rise
February 3, 2014 | Written by Leah McLaren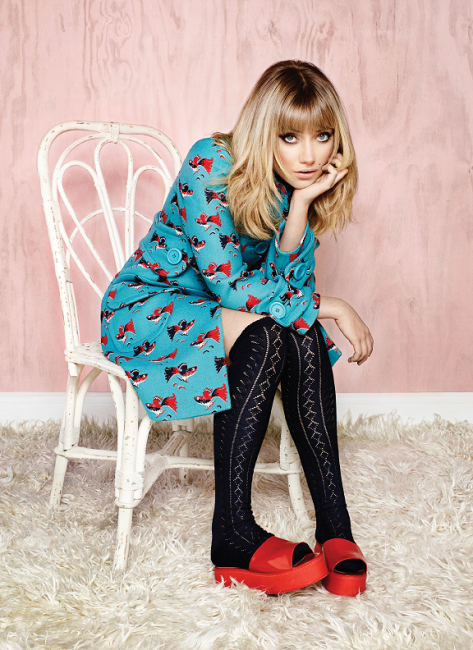 Actress Imogen Poots bounds into a London café a week before Christmas, looking bright-eyed and sparkly in a gold-patterned sweatshirt, her tresses a mad mess of dirty-blonde curls. "Would you look at my Christmas jumper?" she laughs, as if it's the most ridiculous thing she's ever seen, before grabbing an enormous milky coffee at the counter. The 24-year-old apologizes for not ordering tea, given that we're in trendy Soho tea shop Yumchaa at her request. I can immediately see why she chose the place. Like Poots herself, the room is charming and unpretentious, with a bit of kookiness. She's at home in this airy, white-washed space full of chipped antique kitchen chairs and stylish 20-somethings hovering over iPads. Pulling up a seat, Poots giggles nervously, unclips her bushel of hair, leans back and sighs with pleasure: "It's soooo nice to be home."
She's in town for Christmas with her family, taking a break from a peripatetic Hollywood existence and back-to-back filming schedule. As of this spring, Poots has seven movies in the bank, and she's currently starring opposite three of cinema's most magnetic leading men: Zac Efron (That Awkward Moment, in theatres now), Aaron Paul (of Breaking Bad fame—and one of her real-life best friends—in Need for Speed, out March 14) and James McAvoy (Filth, which debuted in the U.K. last fall and opens in North America later this spring). Poots has been hand-picked by such veteran directors as Terrence Malick (Knight of Cups) and Peter Bogdanovich (Squirrels to the Nuts). She attended the 2013 Toronto International Film Festival for the Jimi Hendrix biopic All Is by My Side, while A Long Way Down—the newest Nick Hornby adaptation—recently screened at the Berlin International Film Festival. To top it off, she has landed the lead role in Todd Field's upcoming film version of Jess Walter's international bestseller Beautiful Ruins.
Living in Los Angeles is a necessary evil for Poots, though she admits she hasn't spent much time there because of her frenetic work life. (Good thing, perhaps, as she doesn't have a driver's licence.) She prefers New York. "I fell in love with it. Walking around just feels so cinematic. I find the aristocratic parts of London so unattractive and angular; the architecture is so white and gated," Poots says. "But in New York, it's different—even uptown it's really grand, and there's no real segregation there. It's all mixed up." But for now, in this moment, Poots seems every bit a Londoner, with her unique beauty (enormous feline eyes, angular nose and Cara Delevingne–level eyebrows), nubbly black sweater-coat and plans to spend the rest of the day scouring the city for a ceramic cow-shaped jug that pours milk from its mouth as a gift for her godmother. As one does.

"Going to the cinema by yourself during the day is the best. I read a lot. I take long walks. The older I get, the more quiet time I need."

"I do love tea," she says, "but this morning I just really needed the vrrrooom!" The substitution of sound effect for language is part of Poots's natural communication style. She is as whimsically off-kilter as her Harry Potter–ish name suggests, constantly gesticulating with her wee fingertips and leaping from topic to topic without reason or pause. I ask about her romantic life, and she avoids the question by pinwheeling her hands toward the ceiling in a lavish disco move and exclaiming, "Wheeeeeee!" When I press further, Poots moans, "Can't you just say, 'She said, 'Wheeeeeee!'?" and does the disco move again. Is she dating or single, loved up or long distance? "It's always long distance!" is all Poots will allow, and then, apropos of nothing, she launches into a monologue about her fondness for breakfast cereal (she says it gives you grounding if you have it every day). For the rest of the interview, much of her conversation comes in the form of funny accents, cartoonish onomatopoeia and jokey sentence fragments. At times our hour-long chat doesn't entirely make sense and feels like the celebrity-interview version of Through the Looking-Glass, but Poots is so sweet and weirdly pleasing to talk to that logic seems beside the point. I'm just happy to be invited into her wacky world.
And what a world it's been lately. Since stepping onto the scene a few years ago at 17, as a terrorized teen fleeing the undead in the hit zombie film 28 Weeks Later, she's won a British Independent Film Award for her performance as a strung-out coke addict in 2013's The Look of Love, Michael Winterbottom's biopic of English smut king Paul Raymond, and critical praise for her role as a competent policewoman at odds with sexist, debauched colleague James McAvoy in Filth. "She's got intelligence in spades," says Filth director Jon S. Baird.
She started young, but Poots didn't trumpet her ambition the way some tiny thespians do. "All these actors 'knew' at age three. They were like, 'I shat my pants, but I knew I wanted to be an actor,'" she says. "For me, it was just a kind of silent recognition that I wanted to do it; it wasn't something I was very loud about, ever."
Hollywood veteran Peter Bogdanovich (The Last Picture Show) was just as certain when he cast Poots as the lead in Squirrels to the Nuts, his star-studded new comedy, in which she plays an aspiring Broadway actress who gets entangled with a group of theatre folk, including Owen Wilson, Jennifer Aniston, Will Forte and Kathryn Hahn. Having directed such offbeat Hollywood legends as Cybill Shepherd, Cher and Barbra Streisand, Bogdanovich clearly prefers his leading ladies on the nutty side. He knew within five minutes that "she was the girl," the director says. "She's very quirky. But not self-consciously so. She wasn't trying to be unusual—she just was."
For all her guileless giddiness, Poots is well aware that she is at a critical moment in her career. She is just one massive hit away from household-name stardom. Or, as she jokes, "one flop away" from obscurity.
Need for Speed, with its hot cars and franchise-friendly cast, is her best bet for a blockbuster, but Poots maintains a sense of humour about the whole macho enterprise. When it comes to setting a genre movie apart from the pack, she insists it's "all about the ingredients": in this case, having an experienced stuntman in the director's chair and, of course, Aaron Paul, her friend and mentor, as her co-star.
Poots's varied roles—from bankable blockbusters to indie art-house films—remind me a bit of Jennifer Lawrence, whose work, Poots says, is a touchstone: "There's a sense of lightness to her. By the look of it, she's not trying. You can tell when someone is putting on a role. If someone really believes in what they're saying, it's quite hard to find cracks."
But like all pretty, in-demand young actresses, she gets offered—and turns down—a number of boring love-interest parts. Getting typecast as The Girlfriend is an ever-present danger. In That Awkward Moment, Poots plays Ellie, a smart, feisty young woman who works in publishing—a love interest, yes, but well-rounded and in possession of convictions, along with good taste in whisky and a fabulous faux-fur coat. "It's difficult when you're just starting out, because you want to experience something. With That Awkward Moment, you could argue I'm just playing the girlfriend of Zac Efron, but the director was such a creative force and let me make her my own," she says. "I loved being part of something that felt so relevant and fresh."
"Scenes with Imogen," says Efron, "were special because they felt effortless. She has this playful side that brings out the best in everyone around her. I often made an ass of myself just to hear her laugh. She has no idea how great she is."
But is such chemistry and character richness the norm in Girlfriend parts? She laughs and shakes her head. "It's when a role simply becomes a device that it gets disappointing. I was talking to one director about the girl in his film, and I said, 'I think it'd be interesting to explore this,' and, 'Does she make this choice because of that?' And he said [puts on a strong nasal American accent], 'Look, she's just gotta be hot, OK?' And I remember walking out of there and being like, 'I'm not gonna do that.'"
Her parents raised her to wield the confidence to refuse such mediocrity. Both worked as journalists and have resided in the same house in Chiswick, a leafy Victorian enclave on the River Thames in west London, since she was small. She attended the Bute School for Girls and Latymer Day School, and lived a relatively sheltered suburban life until her early teens, when she joined a community theatre troupe. In addition to acting, Poots channelled her cool gaze into occasional modelling, not that she's all that fussed about it. In 2011, she was a face of Chloé's eponymous fragrance, and Sofia Coppola cast her in the H&M for Marni collaboration campaign. But when I ask her about it, she grimaces slightly, and quickly points out that she's never been a real model, not like the ones on the runways. "Oh god, no. I'd be a complete shambles!" she says.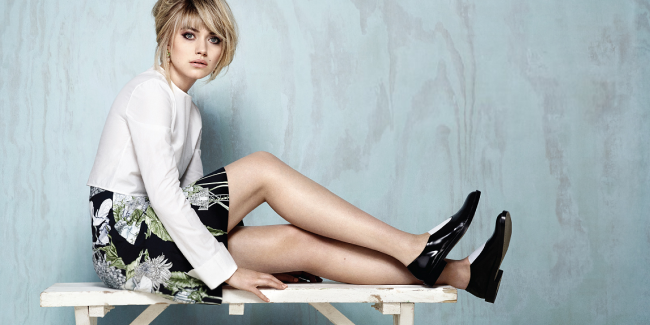 "I just don't like a lot of things, people should just wear what they want and have fun."
Poots is, however, very particular about what she wears in her off-hours. "I just don't like a lot of things," she says. "People should just wear what they want and have fun." I compliment her on the Christmas sweater. She shows me how it's reversible and describes it as a cross between a dressy sweatshirt and a pyjama top. I ask her where it's from, and she shrugs and tells me it belonged to her character in A Long Way Down. Poots might have a hard time describing exactly what her fashion sense is, but her pop culture references come thick and fast. She raves about the looks of the young Debbie Harry and Winona Ryder. "The other day, when I was leaving the house for a party in this slip dress with these red lips and my hair all crazy, someone said [puts on American accent], 'I dunno, it's all a bit Courtney Love.' And I was like, 'Awesome, that's perfect! See you later!'"
Good, honest friends, she says, are the key to staying balanced. Paul became a close pal after they worked together on A Long Way Down, playing melancholy London dwellers bonding over their suicidal impulses. He was attached to the race-car thriller Need for Speed from early on and encouraged Poots to take the part of his fellow passenger in a cross-country car race, à la the bestselling video game. She says she's in awe of Paul as an actor: "He's the antithesis of Jesse in Breaking Bad, thank goodness. But also it's his ability to be so versatile." Her first friends in L.A., she says, include some of the people with whom she did the 2011 remake of the vampire flick Fright Night, like Anton Yelchin and veteran actress Toni Collette (who is also in A Long Way Down). Collette describes Poots as "open and intuitive and receptive and hysterical. She's bright and very much an individual. She'll never be a sheep following the herd."
Relinquishing control is something Collette has taught her about the craft of acting, Poots tells me—good advice for the hectic year ahead. "It's important to watch as much as you can, and to understand what came before," she says. "But the lack of control, that's part of the thrill, because you just don't know and you keep going."