Imogen's All About Getting Sh*t Done
December 16, 2016 | Written by Rachel Simon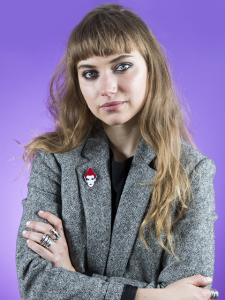 There's having a banner year for your career, and then there's Imogen Poots' 2016. Over the course of the last 12 months, the actor has appeared in three acclaimed movies, each as different from each other as could be: the terrifying horror flick Green Room, out in April; the satire comedy Popstar: Never Stop Never Stopping, from June; and the indie thriller Frank & Lola, in theaters and on demand now. Add in a 10-episode stint on the Showtime series Roadies, and it'd seem like Poots hasn't had a moment to breathe this past year. Yet while her schedule might be crazy, the actor is the first one to say that, considering how few great roles there are for women in Hollywood, she wouldn't trade it for the world.
"I think it's a struggle all the time, but I do think there's a minority of actresses who are in a position and can have this conversation, and I'm acutely aware of that and I'm very grateful for that," Poots says, while at Bustle's New York office. "And I think that you shouldn't misuse that. You should try and be active and urgent about changing the way that women are represented in film — not to say that they should be strong, artificially pure perfect characters, but actually explore the idea of the anti-hero and a woman who is flawed and has made mistakes and is enduring the struggle of life."
Poots' latest character, the titular Lola of Frank & Lola, is right up that alley. A mysterious fashion designer whose past romances complicate her relationship with Frank (Michael Shannon), her serious, possessive boyfriend, Lola has a backstory and motivations impossible to pin down, making the film a constant surprise. For Poots, getting to play a character as complex and flawed as Lola was what drew her to the film.
"It's interesting, because people have called [Frank & Lola] a noir, sometimes, and I see why — there are elements that are definitely faithful to that genre," she explains. "But there was something more than just a linear depiction of what women is. … In its own way, it subverts the archetypes, because even if you could describe Lola as a femme fatale or siren, I really think that she's just a human being who made a mistake and is at great unease to tell the truth."
Although Poots, who got her start in the 2007 thriller 28 Weeks Later and broke through with 2011's horror film Fright Night, has never delved into behind-the-scenes work, playing parts like Lola and Green Room's Amber have encouraged her to consider exploring that world eventually. "I do think it's a shame to hear people sit around and say, 'Well, this isn't out there,' and 'I can't find this,' because you can write it yourself if you really wanted to — there's nothing to stop you from doing that," Poots says. "[Filmmaking] is something which intrigues me, but for right now, I really feel very fulfilled acting and I just want to get better at that."
Whether or not she ever ends up writing or directing her own films, fans only need to look at the roles Poots has taken in 2016 to be reassured that the actor is set on changing the narrative for women both on-screen and off.